Manchester Tank Elkhart Team Wins 2013 McWane Ergo Cup Competition
October 22, 2013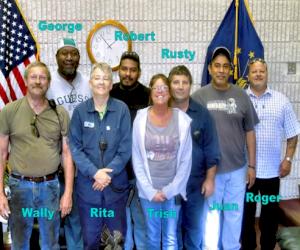 (Pictured: Walter Tochman, George Williams, Rita Scott, Robert Guteirrez,Trish Timm and Rusty Stoeckinger)
The 2013 McWane Ergo Cup Competition is over, the votes are counted and we have a winner!  Teams from the McWane family of companies entered 22 Ergo Cup projects in this years' competition that will significantly reduce our ergonomic risk of injuries as well as improve productivity, quality and even eliminate other potential safety hazards.  We would like to thank everyone that participated in this years' McWane Ergo Cup Competition.
All of the projects were winners, but the Manchester Tank Elkhart team took home the first place trophy for their new two piece paint hook system project.  This project has significantly reduced the risk of a potential hand and wrist injury due to repetitive motion and reduced thread leaks during the washing process by more than 69%. This has eliminated the need to triple handle 570 cylinders, 42,750 pounds, in the last 9 months.
The Manchester Tank Elkhart winning team will represent McWane, Inc. in Orlando, Florida at the National Ergo Cup Competition which will be held on March 24–27, 2014.
Congratulations to the Manchester Tank Elkhart Ergo Cup Team!  Great job!
Find a Product
Find a Distributor
Moving Industries Forward by Redefining Fire Suppression