McWane Ductile-Utah Sponsors Students in Robotics Competition
March 24, 2015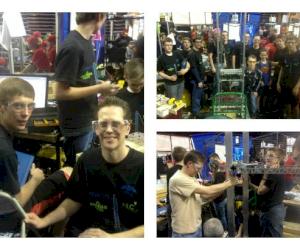 (Pictured left: Nathan Sweat and his son Tyler; top right, Maple Mountain Robotics team; bottom right, Nathan Sweat helping assemble robot)
We were excited to learn that McWane Ductile Utah (MDU) recently donated money as well as some engineering expertise to help local students at Maple Mountain High School compete in the FIRST Robotics competition.  The FIRST program is designed to get high school students interested in science and technology.  MDU team member Nathan Sweat (pictured on left with his son) volunteered his own time to serve as an engineering mentor to the team which included his son Tyler.
In an article by Barbara Christiansen that appeared in the Daily Herald, Tyler said, "I think we have a really good chance this year."
You can read the article in its entirety at:
http://m.heraldextra.com/news/local/education/precollegiate/can-your-robot-carry-out-the-trash-these-high-school/article_7ec7f5b1-5cf8-5eb4-b18e-107cc525df1e.html?mobile_touch=true
The team competed in the FIRST Robotics competition in Salt Lake City, Utah on March 12-14.  Their alliance of three teams took second place out of 51 teams from 11 states and Canada.  The objective was to design a robot that could stack recycling totes and bins and they got points for each item that was stacked.  It required mechanical design and programming.
Congratulations to Maple Mountain team!
Find a Product
Find a Distributor
Moving Industries Forward by Redefining Fire Suppression