Tyler Coupling Bids Farewell to Kay Peppel after 43 Years on the Job
October 28, 2013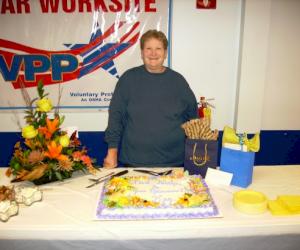 The Team at Tyler Coupling located in Marshfield, Missouri bid a fond farewell to team member Kay Peppel, Production Machine Operator AH in the Coupling Department at a Farewell and Retirement Reception on October 24.  Kay was presented with a pair of diamond earrings, a beautiful bouquet of fall flowers and a cake in appreciation for her many years of service.
Kay's career at Tyler Coupling began 43 years ago on December 17, 1970.  As you can imagine, Kay has seen many changes and new developments through the years, but she would always brighten everyone's day with a smile on her face and cheer in her heart.
We wish Kay the very best for her retirement!
Find a Product
Find a Distributor
Moving Industries Forward by Redefining Fire Suppression