If you are searching for a clean agent wheeled unit solution, the Amerex Model 775 with Novec 1230 is the clear choice.  Novec 1230 provides a fast, effective extinguishment without leaving any residue. This non-conductive liquid is ideal for electronic components and other high value assets because it minimizes damage and allows systems to remain operational. This solution quickly penetrates tight enclosures and often reaches the fire before the flame stage. 
Environmentally Safe
As a leading sustainable fire extinguishing clean agent, Novec 1230 has an Ozone Depletion Potential (ODP) of zero and a Global Warming Potential (GWP) of less than one. While it is applied as a gas, Novec 1230 becomes a liquid at room temperature. With the model 775, it is discharged rapidly as an evaporating liquid.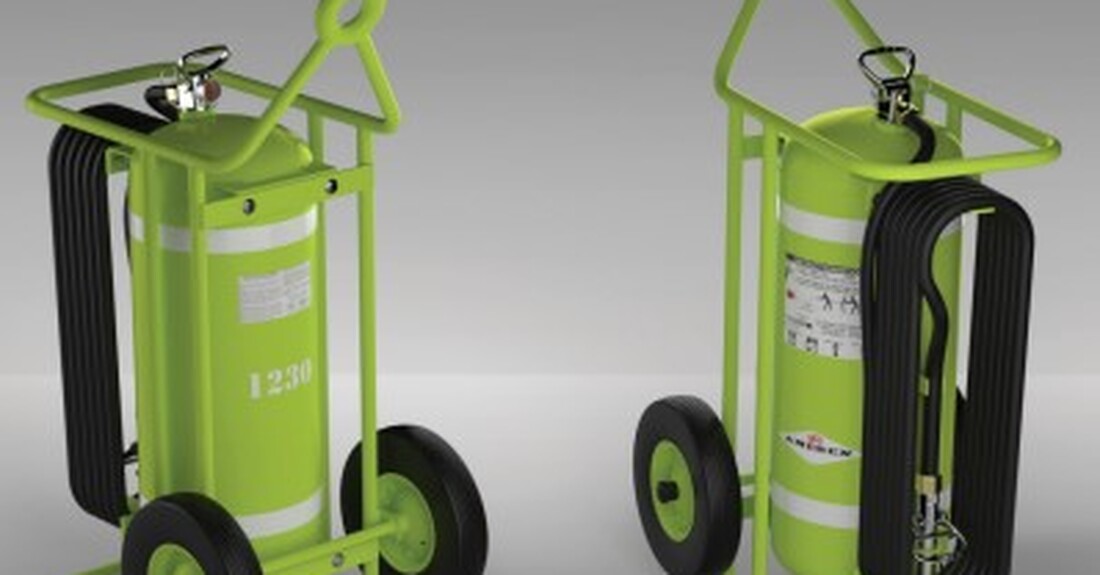 Amerex Model 775
Usage
The Model 775 has a 3A:80B:C UL rating, making it appropriate for Class A, B, and C fires. With a discharge range of thirty feet, it is appropriate to use it in a variety of settings. Some of these include healthcare facilities, military applications, data centers, aviation, power generators, oil and gas, and industrial applications. 
The Model 775 is an ideal solution for aviation settings
Key Features and Benefits
Designed for long-lasting durability, the Model 775 has a brass, chrome plated operating valve and boasts a 6-year manufacturer's warranty. Some other key features include:
Capacity: 150
125 PSI Operating Pressure
Heavy duty steel cylinder, carriage and hose hanger assembly
Lunette coupier for towing
Quick realease 40 feet discharge hose with brass/chrome plated ball type shut-off nozzle
Corrosion resistant lime/yellow polyurethane paint finish
Large color-coded mylar instruction labels
Operating temperature range: -40 degrees to +120 degrees F
How to Service Your Novec 1230 Wheeled Extinguisher
Like all Amerex extinguishers, the Model 775 is known for its quality and durability. Proper maintenance and inspection are key to ensuring that the extinguisher stays in proper working condition. Quick checks should be conducted regularly to make sure that it is in good working condition and is ready to use in the event of an emergency.

Watch our complete training video to learn more about proper inspection for your Novec 1230 wheeled extinguisher. 
Check out all of our digital offerings:
Stay up to date on the latest Amerex products by following us on LinkedIn or Facebook.
View the entire Amerex product line on our Web Store. 
Subscribe to our YouTube page for video tutorials and product information.