Amerex holds VPP Star celebration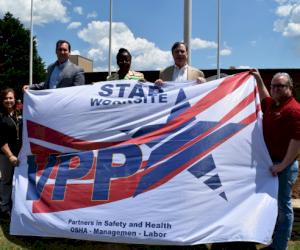 (Pictured L-R: Stephani Riley (Amerex Nurse), Harrison Bishop (Amerex president), Ramona Morris (OSHA Area Director), Ruffner Page (McWane president) and Robert Fisher (Amerex Safety Manager)
Celebration was the theme of the day at Amerex yesterday. They held a VPP flag raising and luncheon catered by Jim N Nicks BBQ for the entire Amerex team to celebrate achieving OSHA VPP Star status. The process to become a member of VPP takes years and cannot be done without the commitment of every single team member. McWane president Ruffner Page and OSHA Area Director Ramona Morris congratulated the team on their hard work and dedication to maintaining a safe workplace.

In his address Mayor Buddy Choat said, "Amerex is the rock of this community as far as employers.  If you've been here your name is associated with quality and dedication."

McWane is proud to now have seven facilities that have achieved VPP status.  Amerex joins McWane Ductile Utah, McWane Ductile Ohio, McWane Ductile New Jersey, Tyler Coupling, Clow Valve and Manchester Tank Elkhart as McWane VPP sites.

Congratulations team Amerex.