Amerex products spotted at the Dayton Air Show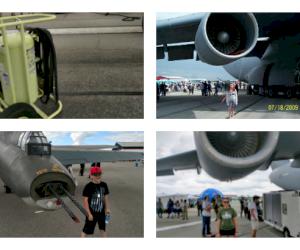 McWane Ductile Ohio team member Cory Humphreys spotted this Amerex wheeled fire extinguisher in front of a huge Air Force cargo plane at the Dayton Air Show this past weekend. Cory said, "I love seeing the McWane products in different places." Also pictured is Cory's daughter, Meagan (both current day and 8 years ago) and his son, Kolby, who is posing behind the Memphis Belle.

The flying show featured performances by the U.S. Navy Blue Angels, the Tuskegee Airmen P-51 Mustang, the U. S. Army Golden Knights and several other amazingly talented groups.