Amerex receives Alabama Workplace Safety Award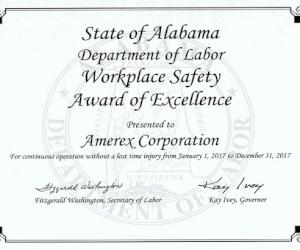 We are pleased to announce that the State of Alabama Department of Labor chose Amerex to receive the Alabama Workplace Safety Award. 

In a letter to Amerex President Harrison Bishop, Alabama Secretary of Labor Fitzgerald Washington said, "You can be proud of your workplace safety and health program.  The shared commitment and involvement in that program by top management, safety professionals, and every employee contributed toward making safety in the workplace a reality."