Amerex sponsors and competes in 2016 Cahaba River Fry-Down
October 6, 2016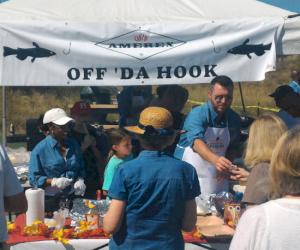 Amerex has been a proud sponsor of the Cahaba River Society's Cahaba River Fry-Down for several years running.  This event is designed to raise awareness about the importance of the Cahaba River, Alabama's longest remaining free flowing river. 

This year's event was held at Birmingham's Railroad Park and featured great food, educational games, petting zoos, beer gardens and and of course the traditional catfish fry down competition.  Amerex's Off Da Hook team won the People's Choice and Ken Bowen Award at this year's event.

Over 600,000 people and numerous businesses in the area rely on the River as a major source of drinking water.  It also sustains an internationally significant diversity of freshwater water life.  We need to continue to work together to create a healthier future by saving our valuable sources of water. 
Find a Product
Find a Distributor
Moving Industries Forward by Redefining Fire Suppression