Another Team Product Spotted at the Hoover Dam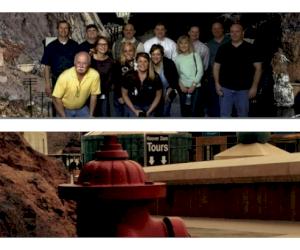 During the last McWane Ductile National Sales Meeting, some of the attendees took a break to visit the Hoover Dam.   While there, they spotted a Clow fire hydrant.  You may recall, we posted another product siting Tyler Coupling's Jeff Morris at the Hoover Dam back in December.  Jeff spotted a coupling made by Tyler Pipe & Coupling on an AB&I pipe next to an Amerex fire extinguisher.
Looks like we've just about got the Hoover Dam surrounded by our products!