Chuck Freind shares McWane Environmental Compliance Culture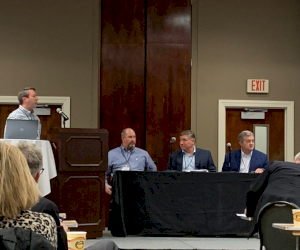 Pictured from L-R, Steve Messier (Moderator), Nucor Steel; Chuck Freind, Amerex; Troy Perry, City of Birmingham; and Daniel Smith, Primarium LLC and Carnival UK.
Amerex Environmental Manager Chuck Freind recently participated in a panel discussion at the 4th Annual Environmental Professional Conference on How to Create an Environmental Compliance Culture Within your Company.  At McWane, we are proud of the environmental compliance culture we have created together.