Clow Canada sales team helps build bikes for local kids
January 31, 2017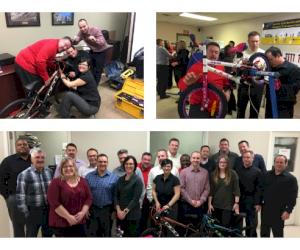 Clow Canada Sales Team
Clow Canada held their annual sales meeting in Hamilton Ontario last week and one item on the agenda was a team building event. Attendees divided into 4 teams with each team tasked to unbox and build a new children's bicycle. The challenge was to work together to finish building the bike as quickly as possible.

Later that day, the teams reconvened at New Hope Community Bikes, a Hamilton charity outreach that donates and repairs bicycles for the less fortunate in Hamilton. The Clow team spent the afternoon volunteering at the shop, repurposing used bicycles under the watchful eye of a licensed repair technician. The day concluded with the team donating the 4 new children's bicycles that they built earlier in the day.

Everyone had a great time working together and was pleased to have the opportunity to help the children in the Hamilton community.
Find a Product
Find a Distributor
Moving Industries Forward by Redefining Fire Suppression