Clow Corona sponsors Centennial High School softball team
March 27, 2017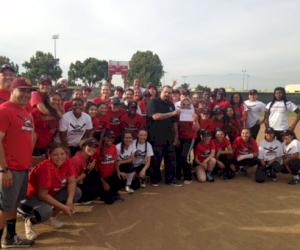 Clow Corona was a proud sponsor the 2017 Centennial High School softball team in Corona, California, which included team member Charles Gomez's daughter. Centennial High is a California Distinguished public high school with over 3,000 students and the only high school in the district that provides the International Baccalaureate program of study.

At the check presentation by Charles Gomez, Coach Humphreys said, "On behalf of the Centennial High School Softball Program, we thank you and are so grateful for your generous donation of $1,000. This donation will help us pay for our tournament fees, game balls, uniform essentials for all players as well as other equipment that is needed each season such as batting nets and tees. We are a program that works hard each and every day to improve our program and facilities for our current and future participants. Your donation helps us to continue to improve the program and make the community proud to be a Centennial Husky. Again, we thank you and hope to see you at our games."

Clow Valve continues to invest in the communities where our team members live and work which to help give them a better place to work, play, live and thrive. In our eyes, the Huskies Softball team has a roster filled with winners.

We wish the Huskies the best of luck on the field and much success in their educational endeavors.
Find a Product
Find a Distributor
Moving Industries Forward by Redefining Fire Suppression