Hewitt-Trussville High School celebrates new Amerex Outdoor Learning Center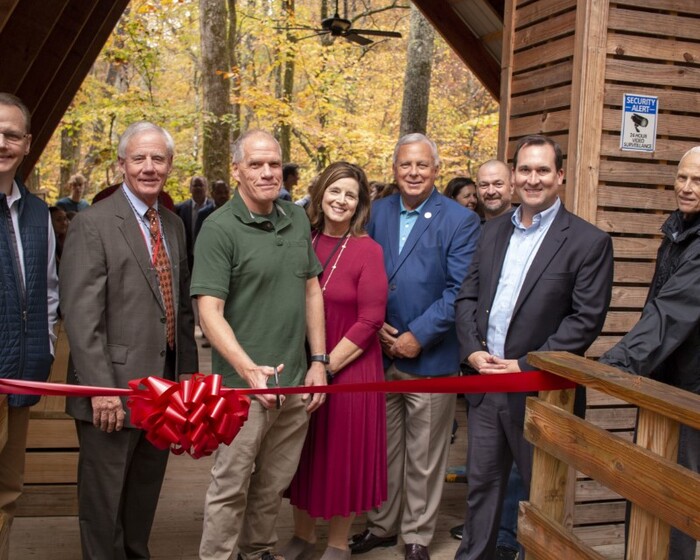 Hewitt-Trussville High School recently gathered several community leaders to cut the ribbon on its new Amerex Outdoor Learning Center, a covered classroom for outdoor learning. The classroom was a collaboration with Amerex, the Cahaba River Society, Faith Community Fellowship and Hewitt Trussville school district. Teachers introduced the concept of the outdoor classroom so that students could have better access to learning along the Cahaba River.

Community leaders came together to create this space on the banks of one of the most pristine rivers in our country that will benefit thousands of students for years to come. The Hewitt-Trussville campus is surrounded by trees and the Cahaba River flows on property. In order to build the facility, contractors found the clearest area of land so no trees had to come down. To bring the teacher's vision to life, Amerex provided the funding for the outdoor space, Faith Community Fellowship provided building labor and ArchitectureWorks created the design.


Event attendees included Dr. Frank Costanzo, Acting Superintendent, Trussville City Schools; Harrison Bishop, President and CEO, Amerex Corporation; Steve McCarty, Pastor, Faith Community Fellowship; Jay Pigford, Architecture Works; Trussville Mayor Buddy Choat and students, teachers and administrators from Trussville High School, Amerex representatives and Faith Community Fellowship members. Several team members who attended the event have children in the Trussville City School System.
Many teachers already have long-term plans to for the classroom and we can't wait to hear more about how the school uses this incredible new space!