In the Business of Preventing School Bus Fires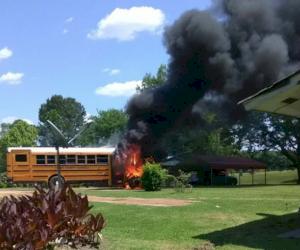 Image sent in to Mississippi News Now by parent Miesha Ammons.
Written by Claudia Newton, School Transportation News
Student transporters discuss their needs and preferences for fire suppression systems to forestall safety threats, while suppliers of the systems share the best things about their offerings and inspectors give tips for post-fire procedures.
Brette Fraley, executive director of transportation for Kanawha County Schools in West Virginia, considers fire suppression systems a good investment made to protect students and buses from potential harm. The district has equipped its special-needs and rear-engine buses with systems from Fogmaker USA, which are good for 10 years. 
"It made sense," he commented to STN. The systems allow for additional time to evacuate students with disabilities off of a bus that has caught fire. The systems provide an extra layer of protection for transit-style buses, in which the rear-facing engine and any fire that starts there is so far away from the driver.
"We did a lot of research," Fraley told STN, which included reading a National Fire Protection Association study that found that fires in transit or school buses caused $24.2 million in damages from 1999 to 2003.
He considers it a well-worth-it insurance policy to not only protect students, but also the taxpayer investments in the school buses. (See images Fraley provided of Fogmaker USA's system being installed on Kanawha County's buses at the end of this article.)
That point is confirmed by an incident related by Alan Fulton, product manager for fire suppression system provider Amerex. A fire broke out on a bus that had just completed a route delivering students to school, and the Amerex system immediately kicked into action to put out the flames.
"There was such minimal damage that the maintenance department was able to fully repair the bus, and it picked up the kids that afternoon and delivered them, without ever missing any action," said Fulton. "That makes a huge difference. A total loss that could've injured somebody, versus very minor damage and the bus was only out of service a few hours."
Archives:STN Reports on School Bus Fires
Fire suppression systems from Amerex "are designed to warn the operator and suppress the fire, protecting both equipment and employees," the company stated. Amerex's cost-effective offerings "can be compared to a penny protecting a ten-dollar bill."
The Firetrace system is built on the proprietary Firetrace Detection Tubing. "This heat sensitive polymer tubing is pressurized, and reacts to the heat and radiant energy of a fire by bursting, thus activating the fire suppression system," explained the company. Firetrace systems are in use on over 10,000 city, transit and school buses worldwide.
Kidde Technologies provides fire detection and suppression, as well as gas leak detection. It uses Novec 1230, a fluid that works as a gas to disrupt fires by absorbing the heat.
In its 20 years in operation, Fogmaker USA has delivered over 120,000 units of its unique fire suppression system, which uses water to target all three aspects of an engine fire: heat, oxygen and fuel. They have installed over 2,300 systems on school buses since actively entering that market about three years ago. Most notably, Fogmaker reached an agreement in 2017 to outfit all new buses from contractor National Express with its fire suppression system.
Both Amerex and Fogmaker USA, a division of USSC Group, stated that the companies had noticed a recent trend of student transporters wanting to get their Type A or lift-equipped school buses equipped with fire suppression systems. Fulton explained that this was due to an increasing number of states requiring the systems on special-needs buses.
Fulton added that cost was the biggest barrier to districts adding the systems to their buses, but that adoption was largely governed primarily by state government mandates and then consideration of available funds. He also said Amerex has seen "some" districts, especially in California where alternative fuel vehicle funding is plentiful, decide to add the extra feature, because they received grant funds to purchase the bus. Student transporters in Nevada are required to either use extensive fireproof materials, or have a fire suppression system on their school buses, so they often choose the latter.
Mike Gaborcik, regional sales manager for Fogmaker USA, shared that he has received inquiries about installing systems on electric school buses, an option that the company already makes available for electric transit buses. He stated that the company looks forward to entering this space, since a 2014 U.S. Federal Aviation Administration study concluded that water is better than a powder-based system for putting out fires in electric buses powered by lithium-ion batteries.
Joe Scesny, who is the retired lead school bus inspector for the New York State Department of Education and currently works as a school bus safety instructor, highlighted areas of deficiency in post-fire procedures. As a consultant, Scesny said that he had access to state inspection records, but not the more detailed and helpful records filled in by drivers or mechanics. Thus, his school bus fire investigations involved "a lot of guesswork."
Surveillance video can help identify causes for school bus fires, but Scesny said they are still not investigated in as much detail as they should be, due to a lack of school bus-specific training that is given to fire inspectors.
After a fire occurs, Scesny advised that inspectors take a close look at recent maintenance work performed on the bus. For example, a recently replaced engine on a rear-engine transit-style bus should raise a red flag. The New York City Metropolitan Transportation Association found the highest number of fires occurred on its nine to 11-year-old transit buses that had undergone such a procedure.
Nationally-certified fire inspector and independent consultant Norm Dube added that twisted or corroded wires, or stainless steel which is used in wiring and collects heat, increase the risk of fire. Areas of high heat cycling, plus vibration, are trouble spots, he added, and recalls should be "done right, so the bus doesn't burn down later."
He shed more light on post-fire fallout at a breakout session during last year's STN EXPO. After a school bus fire, district employee emotions tend to run the gamut of anger, fear, shame, frustration and confusion, and any media sensationalization doesn't help matters. Even though districts will not want to talk about such incidents, Dube said they need to overcome the stigma to discuss them and be proactive in preventing future incidents.
He recommended using bus fire inspectors rather than building inspectors, and he added that consulting with an insurance company could also be useful, as they are likely to have encountered such incidents before.
"Understand where, when and why it happened; then you can respond intelligently to prevent it happening again," advised Dube.
View original article here.