McWane hosts Anniston Water Works Day of Water Training
August 24, 2017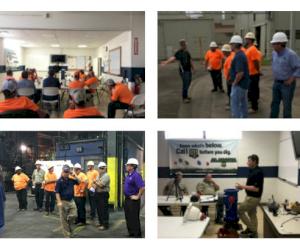 On Friday, August 18, McWane Ductile, Tyler Union and M&H Valve conducted a Day of Water event for Anniston Water Works and Sewer Board (AWWSB) in Anniston, Alabama.  The Day of Water provides training and five continued education hours for engineers and utility employees.

The day began with a plant tour of the Tyler Union foundry in Anniston.  Approximately 30 AWWSB employees got to see first-hand how scrap iron is transformed into usable ductile iron fittings.   Tyler Union's Charlie Chastain (Foundry Manager), Mark Vess (Technical Sales Support), Sundra Welch (Inside Sales Manager) and Buck Christian (Territory Sales Manager) coordinated the tour and did a great job welcoming the AWWSB team. Following the plant tour, the group continued the training at the AWWSB warehouse and training facility for the remainder of the day.  

The training included a hydrant demonstration by M&H Valve Sales Representative Drew McCullough, presentations on Ductile 101 and Ductile Iron versus PVC by McWane Ductile Product Engineer Ken Rickvalsky, and Unaccounted for Water and Ductile Iron Pipe Certifications by McWane Ductile Eastern U.S. Sales Engineer Roy Mundy. 

We appreciate AWWSB General Manager Ed Turner, John Hall (General Superintendent), the Board and AWWSB employees allowing us to conduct this training event.  

If your company would be interested in McWane Ductile performing PDH and CDH certified training, please contact your local Sales Representative.  All contact information can be found by clicking http://mcwaneductile.com/sales-support/sales-team/ and selecting your local area.
Find a Product
Find a Distributor
Moving Industries Forward by Redefining Fire Suppression