McWane: Leading the Way Online
January 28, 2013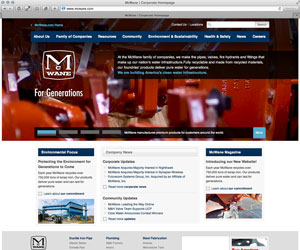 By the end of the year, every McWane company will have its own dynamic digital home, one to serve our growing online customer bases with unique and individual features — while still being a seamless part of McWane's corporate web infrastructure.
The McWane Way is being the best by doing our best, and always looking to be better. Now we're bringing the entire McWane Way online too, in a consistent, unifying branding effort that will give each division its own customizable stage while delivering efficiencies and coordination across the entire company! The new family of websites for our family of companies honors the heritage, know-how, and professionalism enshrined in the McWane Way — with a big, dynamic digital upgrade featuring video and cutting-edge interactivity to boot!
By showing what we do, and how well we do it, we'll be providing our customers with real value. We're building a robust content management system that will be instantly updatable and easily modified to meet the needs of all of our individual groups, employees and customers. The boldly designed new websites will enjoy a strong consistent identity and a new look that will serve human resources, management and health and safety platforms company-wide. Built with usability in mind, each unique division will be displayed online in new and more exciting ways than ever before. Combine that with the integration of cutting-edge video and interactive technologies, and it's obvious why everyone involved is so excited about the project.
"This kind of web project is something that has never been done before at McWane," says Project Leader Elizabeth McCoin. "By creating a site that is custom built from scratch and is infinitely scalable, McWane is building a better experience for customers, employees and everyone involved. It's an exciting time to be at McWane!"
Together, with our trusted partners from Trilix, we're building something that is truly special. By pulling all of our various digital domains together onto one dynamic platform, we're saving time and money while building-in the ability to modify, shape and custom-tailor all of our websites. That's continuity for today and innovation for tomorrow.
We'll be rolling out the new, integrated websites in phases over the course of the year. Starting with corporate site, we will then roll out all divisional sites by groups. We'll finish launching the sites sometime near the end of 2013.
With nearly a century of industry leadership under our belt, this new effort will help secure McWane's position well into our second century. By constructing a new and better web presence, we're ensuring that McWane is going to be the best in the business for a long time to come.
Find a Product
Find a Distributor
Moving Industries Forward by Redefining Fire Suppression