Pacific States Team takes guests zip-lining in Provo Canyon
May 21, 2013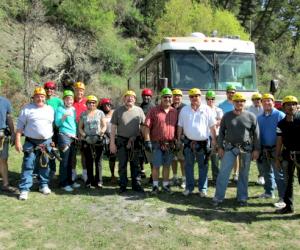 Team members from Pacific States, Atlantic States, Clow, Manchester Tank Quincy and McWane Corporate
The Pac States Team recently had the opportunity to show off their zip-lining skills to guests from Atlantic States, Clow, Manchester Tank Quincy and McWane Corporate.  These guests were conducting Process and HR audits at Pac States, but after the audits were done, they treated their guests to a little fun at Max Zipline in Provo Canyon, Utah.
The riders experienced heights of 70' at speeds up to 40 mph on lines up to 1,100' long.  It was a fast, fun and exhilarating ride!  There were nine certified guides available to assist riders as they moved from platform to platform to keep everyone safe and keep the line moving.  These guides also provided the training required before riders are allowed to mount the ziplines.
Riders not only experienced the thrill of the ride, they were treated to a tree-top canopy tour on the way down that was absolutely beautiful.
We are happy to report that a good time was had by all and everyone returned home safe and sound.
Find a Product
Find a Distributor
Moving Industries Forward by Redefining Fire Suppression