Quick-Thinking California Man Snuffs Out Tractor Fire with Amerex Extinguisher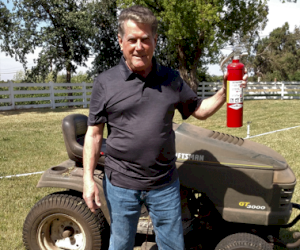 LODI, Cal.­—When Dennis Ferrero bought two Amerex hand portable fire extinguishers in 1987, he couldn't have known that one would help protect him and his property more than 30 years later. But that's exactly what happened.
After finishing mowing around his property on March 28, 2019, Dennis Ferrero parked his garden tractor and turned off the engine. The tractor backfired and the engine caught fire. As Ferrero pulled the hood up to see the extent of the danger, flames rose as high as two feet from the engine compartment. The fuel line to the carburetor had cracked, causing fuel, grease and the fuel line to ignite from the engine's heat and friction. Rather than panic and allow the blaze to get out of control, Ferrero calmly proceeded to his shop, where he knew one of those trusty '87 Amerex 2.5 lb. ABC fire extinguishers was still charged and ready, bracketed to the wall by the door. He grabbed the extinguisher, walked back to the tractor, pulled the pin and extinguished the fire safely and easily.
"That Amerex extinguisher saved the garden tractor, the motor home parked next to the tractor, the shop and possibly my home," said Ferrero. "This reminded me of when I used the first extinguisher I bought in the '80s on a gas BBQ that caught fire. I hope this helps those who do not have an extinguisher to get one. Thanks, Amerex!"
Our hats are off to Dennis Ferrero of Lodi, California, for his quick thinking, calm under pressure, and excellent choice in fire extinguishers!