Tyler Gets Cert. of Appreciation
April 19, 2012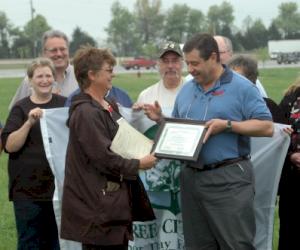 On April 5, 2012, the City of Marshfield presented Tyler Coupling with a Certificate of Appreciation in recognition of their efforts to maintain and plant additional trees on the property surrounding the facility. This continues an initiative that some environmentally conscious team members at Tyler Coupling started in 2007 when they committed to plant 40 trees as part of a citywide project to get Marshfield listed as a Tree City USA. The project took about a year and a half from start to finish and before they knew it, there were 70 new trees adorning the 36-acre parcel and surrounding city land.
According to the National Arbor Day Foundation, the Tree City USA program is sponsored in cooperation with the foundation, the U.S. Department of Agriculture's Forest Service and the National Association of State Foresters to provide guidance and technical assistance while booting public awareness and national recognition for both urban and community forestry programs.
Some of the trees planted were for color and others for long-term growth, but all of them were placed in strategic spots. For instance, one sapling expected to live as long as 400 years was planted far outside the scope of any future facility expansions.
In 2007, Tyler Coupling's General Manager Bill Hoffman was quoted as saying "They've worked on several unrelated beautification projects, from sprucing up the front entrance to designing common areas for picnic benches and resting areas that enhance the entire plant, and I don't see that stopping."
Looks like Bill was right as the tradition continues.
Find a Product
Find a Distributor
Moving Industries Forward by Redefining Fire Suppression