Tyler Pipe committed to helping find a cure for cancer
June 8, 2017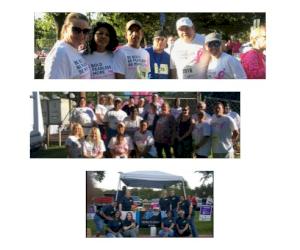 Tyler Pipe continues to be a good neighbor in the community by supporting events that are trying to find a cure for cancer. The Susan G. Komen Race for the Cure was held on May 13 at Bergfield Park and 25 team members showed up to support this event.  They were challenged to donate $19.00 each to represent Tyler's 19th year of sponsoring the event and the Tyler team accepted the challenge.  Tyler general manager Greg Simmons said, "We not only support these events financially, we show our commitment by volunteering our time."

They also participated in the Relay for Life which was held in South Tyler and as usual Tyler Pipe was there in record numbers. The Relay for Life is a nationwide event that is sponsored by the American Cancer Society and is not actually a race, but a fundraiser put together to raise funds to fight against cancer.  Survivors, community leaders, friends and family all come together to walk a track in support of those who have survived cancer or are presently fighting the battle against cancer.  Tyler was honored to be there in support of two cancer survivors, team member Calvin Seward and Cynthia Hughes, wife of Tyler team member Boots Hughes.

Thanks to the Tyler team members that helped make this year's events a success.
Find a Product
Find a Distributor
Moving Industries Forward by Redefining Fire Suppression