As the wave of digital usage grows with more people turning to online resources, it only makes sense to carry that over to the workforce. A total of 5.16 billion people, or 64 percent of the global population, use the internet. In 2017, the FED Learning Center (FEDLC), an industry-leading International Code Council (ICC) education provider, recognized this digital uptick. Fire and safety industry leaders joined forces to address recruitment challenges, such as hiring, maintaining retention, and training. They saw a need for improved technical training for the maintenance, inspection, repair, and safety fields. The FEDLC developed an educational platform that fulfills this need for more professional development. From kitchen suppression systems to fire alarms and extinguishers to code enforcement to exit and emergency lighting, these ICC-approved courses provide fire equipment distributors, code officials and facility managers with three types of learning.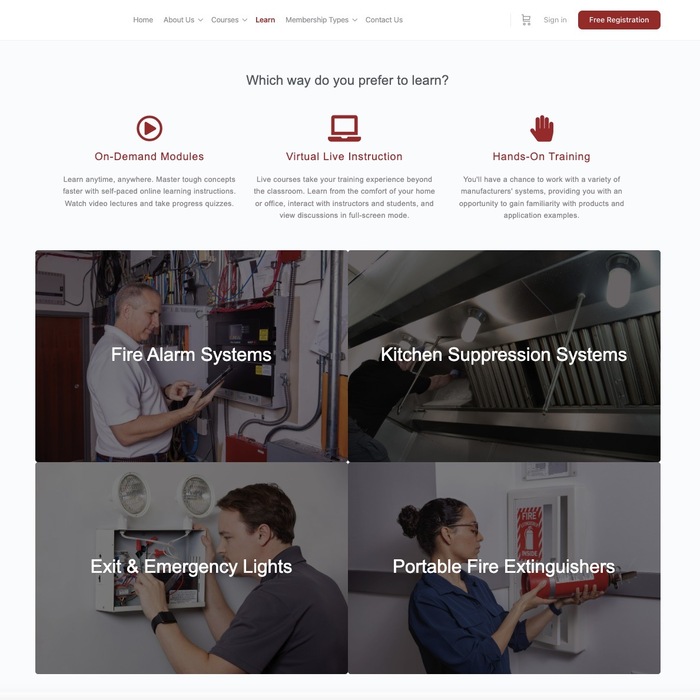 On-demand modules create a self-paced video online learning experience with quizzes to gauge learning progress.
Live virtual courses allow participants to interact with instructors and other students.
In-person, hands-on training offers the opportunity to work with manufacturers' systems to increase familiarity with specific products and applications.
What started as individual hands-on training sessions for fire industry professionals has transformed into complete programs for businesses. The Amerex and the FEDLC teams are excited to launch Amerex OEM training classes. The FEDLC chose Amerex and the National Association of Fire Equipment Distributors (NAFED) as exclusive training partners.
Before taking the first Amerex class, participants must take the FED Learning Center portable fire extinguisher training course to learn NFPA 10 standards. Participants who take the half-day Amerex portable fire extinguisher class will leave with working knowledge about company history and the Amerex brand; fire extinguisher ratings and agents; Amerex extinguisher lines; specialty extinguishers; and the parts, tools, equipment, and inspections necessary for servicing. Attendees will receive .30 CEUs, or continuing education units, along with an OEM fire extinguisher certification. The next class is Friday, May 5 at 1:30 p.m. in Cincinnati, Ohio.
"We are grateful to expand our course catalog and to come together with industry manufacturers to address training challenges. We know that the FED Learning Center's educational platform successfully supports the training and developmental needs of the fire and life safety industry, so partnering with the best training platform, with the best manufacturing partners, is a win-win for the industry."

Wil Colby, General Manager of the FED Learning Center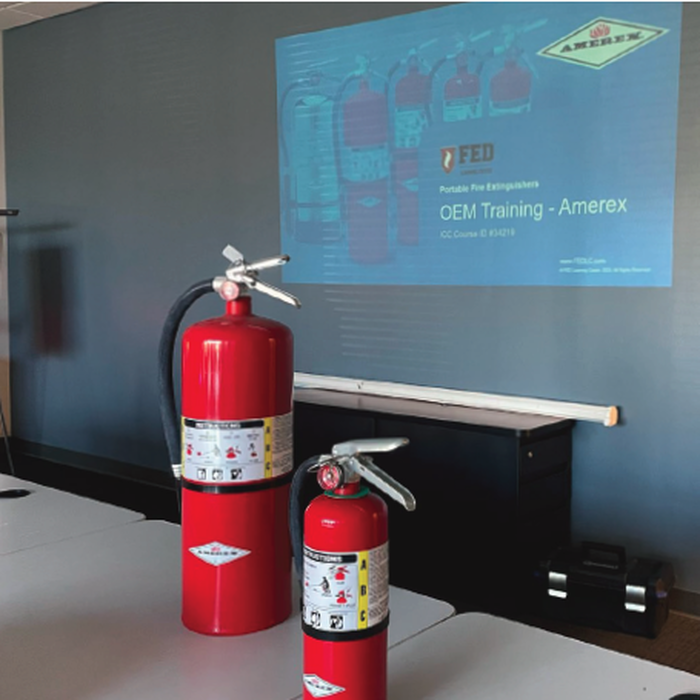 Partnering with OEMs like Amerex has been a catalyst for advanced and specialized training courses. The modern, robust learning technology is great for single users and companies that want to use it to manage training needs across their entire enterprise.
"Our vision is to provide an industry-specific, educational experience that not only satisfies various student job requirements but also expands knowledge, technical expertise, and natural curiosity to help the industry evolve for a better, safer tomorrow," says Wil.
The importance of fire safety knowledge is immeasurable. Future fire professionals need to know how to develop, install, and operate these innovative and high-quality systems that protect our communities. Without proper industry education on products and application methods, everyone is at risk of not being able to escape during a fire before firefighters and emergency personnel arrive. Amerex and the FEDLC are committed to supporting industry education to expand fire safety knowledge.
Hands-on training sessions will be held at the following dates and times:
June 30 at 1:30 p.m. in Dallas, Texas
Aug. 4 at 1:30 p.m. in Concord, North Carolina
Aug. 18 at 1:30 p.m. in Cincinnati, Ohio
Sept. 22 at 1:30 p.m. in Edison, New Jersey
Oct. 27 at 1:30 p.m. in Dallas, Texas
Nov. 10 at 1:30 p.m. in Orlando, Florida
Dec. 15 at 1:30 p.m. in Edison, New Jersey