When it comes to combating Electric Vehicle Fire Hazards, Amerex has developed innovative technology that will help protect people and property. Lithium-ion battery fires are a rising concern as the EV market continues to grow.  By the year 2025, it is predicted that more approximately 50% of new buses in the United States will be electric. Other industries such as waste, mining, and forestry are seeing the same type of growth.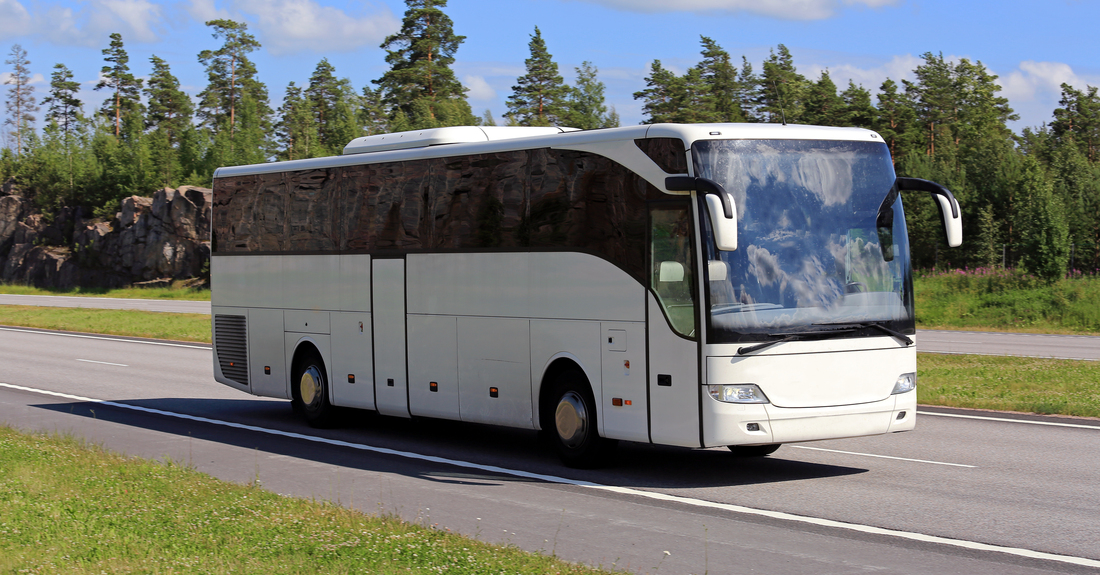 Electric Vehicle Fire Hazards can be difficult to pinpoint. Fire risks can arise if the battery has been improperly manufactured or somehow has been damaged. The force of a crash also creates a high enough impact that leads to a chemical leakage. The new SafetyNet-EV Gas Detection System designed by the engineers at Amerex protects people against these risks. 
How Does the Technology Work? 
Gas sensors are strategically placed around the vehicle and register a warning before an event occurs. These gas sensors are calibrated for use in electric vehicle battery compartments to monitor volatile combustible gases produced as a result of overheat, overcharge, or other conditions.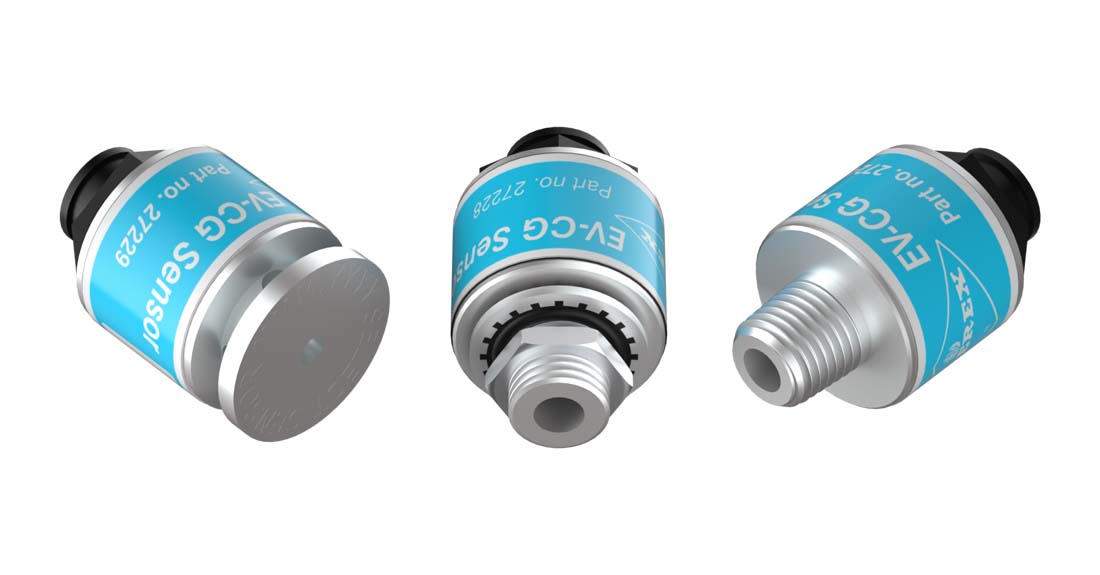 Gas Sensor
Tested and calibrated for EV lithium ion gas characteristics, the SafetyNet-EV Panel sounds is specifically designed to work with these new gas sensor, and sounds an alert. The driver is alerted on the Electrical Vehicle Fire Hazards and is able to safely pull over and evacuate the vehicle.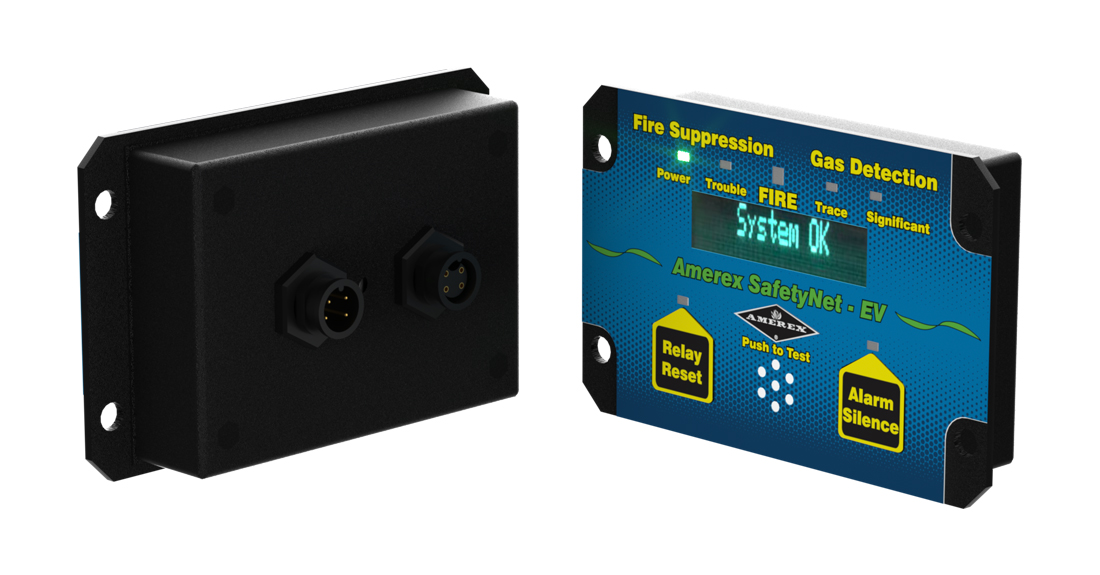 In addition, the Controller Area Network (CAN) Module telematics can be configured to alert the operations control center for faster on-scene response. The alert from the SafetyNet-EV system panel not only immediately lets the driver know about the Electric Vehicle Fire Hazard, but it also transmits the message to a central monitoring locaiton.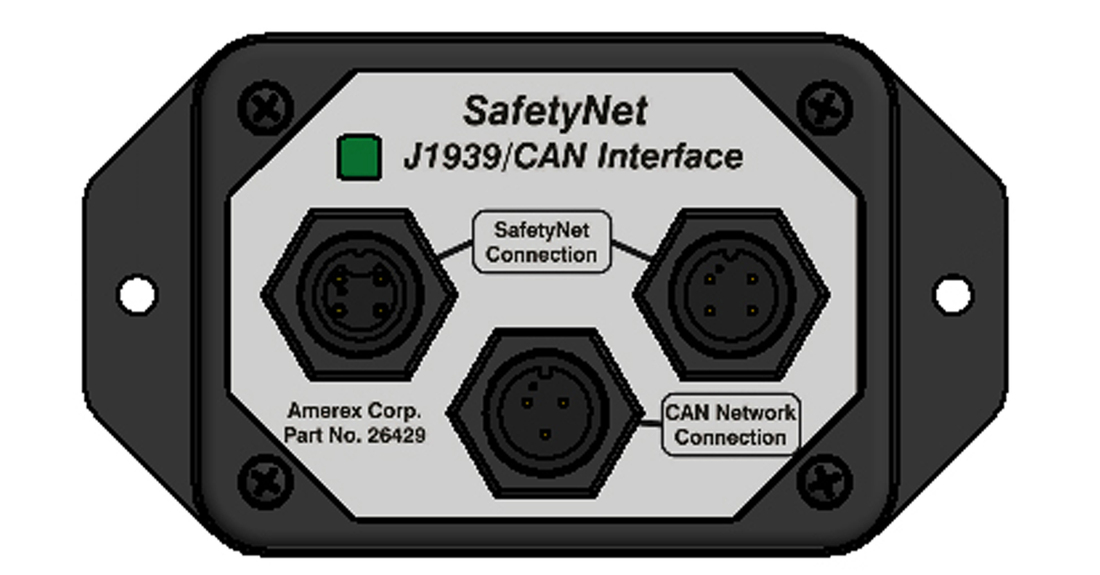 CAN Module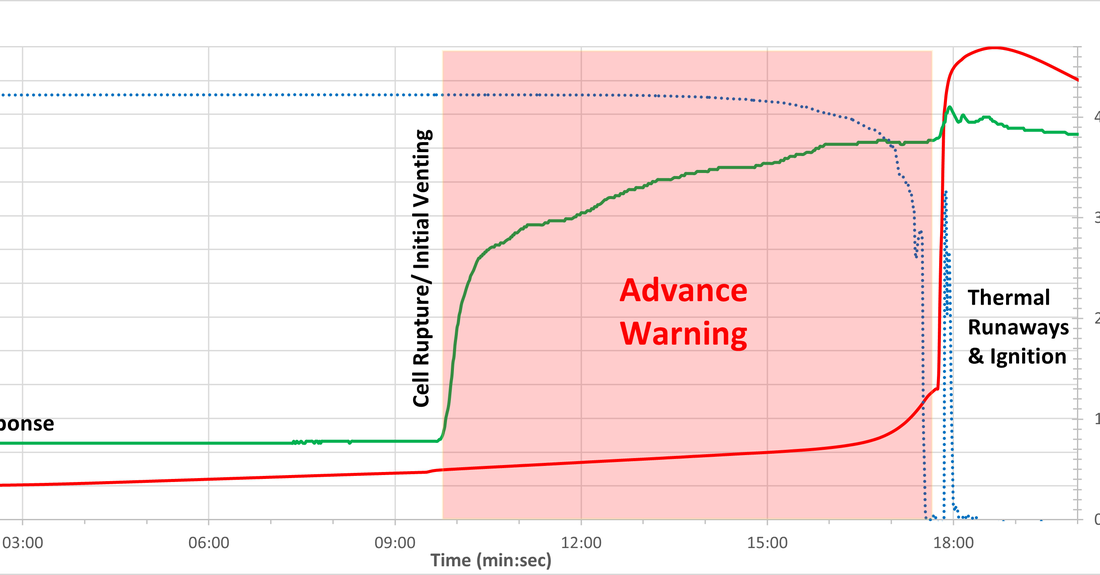 Multi-Cell Lithium Ion Array Heated Until Thermal Runaway Event
Why is the important? 
The graph above highlights the early response from the Amerex gas sensor as compared to traditional monitoring methods including cell temperature and cell voltage. This window of advance warning, highlighted by the pink section of the graph, represents valuable time, well in advance of an eventual thermal runaway.
In this example, cell surface temperature (red) and cell voltage (blue) of the first cell are measured, which are traditional monitoring methods used in lithium ion battery packs. Also included in the graph is the Amerex gas sensor response (green), where the sensor is located adjacent to the cells.
As the first cell is heated, the first measurable event is a cell rupture and off-gassing event (around 10 min), where the cell begins to vent a volatile combustible gas, measured with an immediate gas sensor response. As the test progresses, a thermal runaway event eventually occurs (around 18 min). At this catastrophic event, a noticeable spike in temperature is measured where the cell surface temperature reaches almost 1400°F. Also, just prior to the thermal runaway, a drop in cell voltage is measured.
See how it all comes together in this video illustration. 
Check out all of our digital offerings:
Stay up to date on the latest Amerex products by following us on LinkedIn or Facebook.
View the entire Amerex product line on our Web Store. 
Subscribe to our YouTube page for video tutorials and product information.